[SOLVED] Schedule of the project created from template
Posted:
05.03.2017, 22:08
Hi Guys,
I am new to collabtive and still trying to understand how it works. I have the following concern:
I created a template project with milestones and tasks with dates (which reflact the time needed for each task). The problem is when I want to use this template for a real project. Once I create a project from the template the dates became totally crazy. I even tried to set identical start but it doesn't help. Am I doing something wrong? How to control the date of starting the project in a day I want?
Template

Duedate in the project created from the template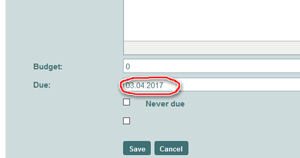 Result